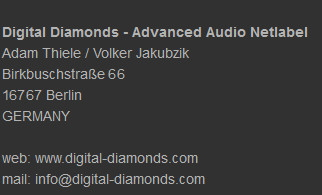 Webdesign and development: jp.huss mediadesign

Disclaimer
Digital Diamonds is a netlabel. It offers a publication-platform for the featured artists. The artists are fully responsible for the content of their work. This includes the usage and the clearing of samples, loops and other material to which rights of third parties might exist. Digital Diamonds cannot be hold responsible for the content offered by the artists on this platform. The content of this website is licensed under a CreativeCommons License. Please read it here before you download any content.

All content of this website is copyright by the different artists. All rights necessary for the publication of the content on this site have been transferred to Digital Diamonds. Most of our artists are not members of any collecting-societies or other associations concerned with the realisation and protection of artistic rights.

Digital Diamonds has the right to make the music, graphic and information of this website available in form of cost-free download on the internet.

This offer contains links to external websites. Digital Diamonds does not take any responsibility for the content of those sites. Responsible for all content offered there is the owner of the particular site.